Warning! This article and its comments may contain spoilers...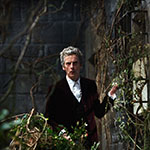 One of last year's Doctor Who episodes, Heaven Sent, has been shortlisted for a prestigious Hugo Award, it has been announced.
Helmed by Rachel Talalay, the story was universally acclaimed for its innovative script and direction, with this nomination reaffirming its status as one of the best episodes in the show's history. It's up for the Best Dramatic Presentation, Short Form alongside episodes of Grimm, Jessica Jones, My Little Pony and Supernatural. The results will be revealed at MidAmeriCon II in Kansas City on 20th August 2016.
Previous Hugo wins for Doctor Who include The Waters of Mars and The Doctor's Wife.