Next Time: Hell Bent
Warning! This article and its comments may contain spoilers...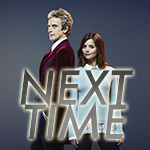 Well, folks, this is it. 3 months later and the Doctor is about to face a struggle that will take him to the end of time itself. It can only be the Series 9 finale!
If you took everything from him, betrayed him, trapped him, and broke both his hearts… how far might the Doctor go? Returning to Gallifrey, our hero encounters the Time Lords to reveal his confession, but who – or what – is the Hybrid?
This year's extended Doctor Who finale, Hell Bent, airs on Saturday 5th December at 8pm on BBC One.
Click here to Rate & Discuss the first part of this year's series finale, Heaven Sent!