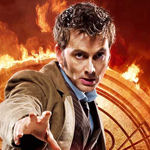 Over the past few days, BBC One have been airing repeats of David Tennant's final episodes as the Tenth Doctor.
Firstly, the 2008 Christmas special, The Next Doctor, was shown on Thursday 30th December, with 1.3million (12%) tuning in to relive the Cybermen stalking the snow of Victorian London. Next up was the 2009 Easter special, Planet of the Dead, which aired on New Year's Eve to 1.3million (12.5%), while The End of Time, Part One interested 1.4million viewers (9.8%) on New Year's Day.
Meanwhile, 1.2million watched The End of Time, Part Two yesterday, a 10.6% share.