John Barrowman teases Cardiff return
Warning! This article and its comments may contain spoilers...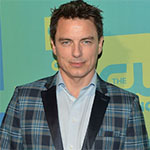 John Barrowman has sent Whovians into a frenzy (we know, so unlike him!) by revealing that he'll be returning to Cardiff "in about a week and a half".
While the actor remained tight-lipped about what's bringing him back to Doctor Who's homeland, his cryptic tease in a recent Facebook video has inevitably led fans to speculate that he'll be reprising his role as Captain Jack Harkness in Series 10, which begins filming this month. His popular character was last seen on screen in 2011 in the fourth series of Torchwood.
So, is Jack back? Only time will tell, of course, and it might just turn out that John's taking a trip to the Doctor Who Experience. He is certainly being secretive for a reason, though…
Loading ...
New adventures. New companion. Same Doctor! Read the latest Series 10 news…