New West End roles for Matt, Billie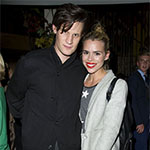 Matt Smith and Billie Piper will both be returning to the West End stage this summer in two separate productions that have been announced today.
As BBC News reports, the Eleventh Doctor actor will be treading the boards at the Royal Court as an obsessive film director.in "Unreachable" by Anthony Neilson, while the Rose Tyler actress will portray a woman whose inability to have a child tears her life apart in a play – based on Federico Lorca's "Yerma" – at the Old Vic. Both productions will open in their respective theatres in July.
Are you planning on seeing Matt and/or Billie on stage? Let us know if so in the comments!