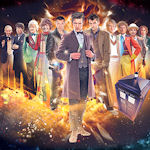 The BBC's official Doctor Who Celebration is underway in London today as thousands of fans gather to commemorate half a century of the Doctor in style!
The event is being held at ExCel London and it will run over the course of the show's golden festivities.
Fans in attendance will get to meet a host of cast and crew from over the years plus enjoy workshops, fun quizzes and behind the scenes presentations and panels.
If you're there today or any of the other days, have a brilliant time and please tweet us updates and pics @WhovianNet – we'd LOVE to see how the celebrations are unfolding!
The 50th anniversary special The Day of the Doctor will premiere worldwide tomorrow.
Share your 50th anniversary hopes and dreams in our dedicated discussion…