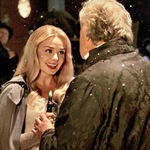 All this month you've been voting for your favourite Doctor Who Christmas Special and the results are now in!
With 23.6% of the final vote, you have named the Doctor's 2010 yuletude outing, A Christmas Carol, as the greatest of them all, and it's not surprising really seeing as it's pretty much the epitome of everything that Christmas stands for. It features snow, crackers, a timey-wimey take on the Charles Dicken classic and even Katherine Jenkins thrown in with a heartwarming festive song for good measure. What more could you possibly want!?
It was also special because it was Matt Smith's debut seasonal adventure as the Eleventh Doctor and he spent it teaching lonely old miser Kazran Sardick – played by Professor Dumbledore himself Michael Gambon - how to love again. Thanks to everyone who voted!
Which has been your favourite Doctor Who Christmas Special to date?

A Christmas Carol (2010) (23.6%)
The Christmas Invasion (2005) (20.8%)
The Time of the Doctor (2013) (12.5%)
The End of Time, Part One (2009) (9.7%)
The Runaway Bride (2006) (9.7%)
The Snowmen (2012) (8.3%)
Voyage of the Damned (2007) (8.3%)
The Next Doctor (2008) (5.6%)
The Doctor, the Widow and the Wardrobe (2011) (1.4%)
The festive adventure continues tomorrow night in Last Christmas at 6:15pm on BBC One.