Warning! This article and its comments may contain spoilers...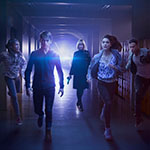 After premiering n BBC Three last year, Class will get its televisual debut this week as it sets its sights on BBC One.
The 8-part Doctor Who spin off will be aired in double bills every Monday from 10:45pm, kicking off at the beginning (it's a very good place to start!) with For Tonight We Might Die and The Coach with the Dragon Tattoo tonight.
If you'll be tuning in for the first time, or watching it all over again, don't forget to check in with us in our Discussions dedicated to each episode.
It is still available to watch online, and the DVD and Blu-ray will be released next week.