Your favourite Chibnall moments
Warning! This article and its comments may contain spoilers...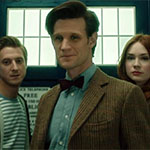 Change is a-comin' to Doctor Who after the announcement that Chris Chibnall will be taking over the showrunning reigns when Steven Moffat hands over the keys to the TARDIS after Series 10 in 2017.
As with the Moff back when he was revealed as Russell T Davies' successor, Chibnall is no stranger to the Time Lord's world, having previously written such classic episodes as 42 and The Power of Three. He also contributed to Torchwood, with acclaimed stories like Countrycide, Fragments and Exit Wounds rounding off his already reputable résumé.
And let's not forget Broadchurch, Chibnall's BAFTA award-winning crime drama, featuring Tenth Doctor David Tennant, which will be returning to ITV for its latest series next year…
So, what have been your favourite Doctor Who/Torchwood Chris Chibnall moments so far? He has certainly paid his dues, so let us know your picks of his best bits in the comments section below. One thing is for sure, the future of Doctor Who just got very, very exciting!