Warning! This article and its comments may contain spoilers...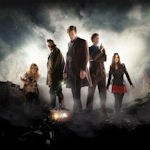 The praise keeps coming for The Day of the Doctor which has now been nominated for a 'Best of British' gong!
The category is part of the Freesat Awards 2014 and will reward "the absolute best programme or series on the UK's free-to-air TV channels'. No competition, really!
With three Doctors, iconic British landmarks plus a record-breaking global TV simulcast, the historic 50th anniversary episode is definitely worthy of this coveted title.
The winner, chosen by industry experts, will be announced at a ceremony on 17th June.
The Day of the Doctor's also shortlisted at BAFTA for the Radio Times Audience Award.
"No more" waiting! Rate and discuss The Day of the Doctor with fellow fans…
With thanks to the BBC Doctor Who Blog.