Exclusive Interview: Trevor Cooper
Warning! This article and its comments may contain spoilers...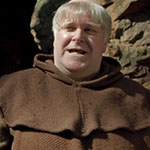 If you've ever wondered what it would be like to have been one of Robin Hood's coveted Merry Men, wonder no more!
Earlier this week we caught up with actor Trevor Cooper to find out more about his portrayal of the outlaw's iconic companion Friar Tuck in Robot of Sherwood.
Trevor gave us his interesting insight into the filming of the latest episode and explained how the experience was different to his previous guest role in the 1975 serial Revelation of the Daleks. Read his responses below.
Q. Hi there, Trevor! Firstly, when did you first realise you were interested in acting?
A. In 1975, whilst studying Law at Kingston Poly, I played McHeath in a Drama Society production of The Threepenny Opera. I really enjoyed it and realised that some people did this for a living. After that, my mind was set.

Q. And how did your role as Friar Tuck in Robot of Sherwood come about?
A. Actually, I originally auditioned for the part of Quayl but was offered Tuck. Weirdly, Roger Ashton-Griffiths, who is a mate and who played Quayle, originally auditioned for Tuck. I had done an episode of Chalk for Steven Moffat years ago, so I suspect he had something to do with it.

Q. Were you already a fan of the series before you landed the role?
A. Of course I'm a fan of the series. I was 10 in 1963 when it first came out – the day after Kennedy's assassination, as I remember. It immediately became my favourite programme and the Daleks had me hiding behind the sofa. Although, that was when I was 38!

Q. When did you film the episode and how long did filming last?
A. We filmed in April. We did most of the Merry Men stuff in a week and then came back a week later for the goodbye scene.

Q. What was it like to become one of Robin Hood's iconic Merry Men and did you do any research into your character?
A. It was great being Friar Tuck. I've played him once before, in an advert for British Pork circa 1979, but this was my first proper bash at him. I didn't do any research, other than to hark back to the 50s series with Richard Greene, on which our Merry Men were seemed to be based.

Q. What are your favourite memories from your time on set?
A. The Merry Men really bonded on the shoot and there were a lot laughs. We've all stayed in touch.

Q. This wasn't your first appearance in Doctor Who as you also guest starred in Revelation of the Daleks in 1985. How would you compare both of your roles and how were both of the experiences similar/different?
A. This was very different to Revelation of the Daleks – mainly in terms of production values and expense. Back then, we rehearsed for two weeks or so at the Acton Hilton, shot a tiny bit on location and then did the rest in the studio, wobbly sets and eggbox Daleks included. Robot of Sherwood, however, was like shooting a movie.

Q. What was it like to get the chance to see Peter Capaldi perform as the Doctor before he had properly appeared on screen?
A. I thought Peter was tremendous. He gives a new weight to the Doctor that the role hasn't had in a while, and, as well as being a wonderful actor, he was incredibly welcoming and attentive to everyone. He has properly taken on the mantle and he's extremely giving with it. I think he may even end up being the best Doctor ever.

Q. Based on your own experiences, what advice would you give to any aspiring actors reading this?
A. Hang in there and get another job. You can act part-time and still make a lot of money.

Q. Finally, have you got any upcoming projects you can tell us a little about?
A. I'm in four episodes of the next series of Wizards vs Aliens which I shot round about the same time as Doctor Who – fortunately both in Cardiff! That starts in October or November, I think. And I've just come back from Johannesberg shooting the next series of The Wrong Mans with James Corden and Matthew Baynton, who is my cousin's son. Nepotism works! That will go out as a Christmas Special.
What say you about Robot of Sherwood? Click here to Rate & Discuss the episode!