Warning! This article and its comments may contain spoilers...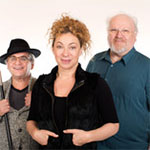 River Song will be joining forces with not one but two Classic Doctors in the second series of her Big Finish audio range.
Alex Kingston once again reprises her role as everybody's favourite "kick ass hero" to encounter two of her husband's previous incarnations at once, in the forms of Colin Baker and Sylvester McCoy as the Sixth and Seventh Doctors. The Diary of River Song: Series 2 contains four original adventures – The Unknown, Five Twenty Nine, World Enough and Time and Eye of the Storm – and will be released in January 2017.
Are you looking forward to River teaming up with Doctors #6 and #7? Let us know below!
Browse the latest Doctor Who products on sale now in our merchandise section…