Matt's back in Cardiff for Sarah Jane filming
Warning! This article and its comments may contain spoilers...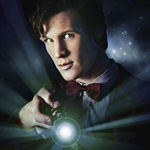 Matt Smith has returned to Cardiff to shoot his guest scenes for the new series of The Sarah Jane Adventures!
Thanks to the beady eyes of avid fans, we know that he's already been filming his appearance for the past week or so, however we were given solid confirmation earlier this afternoon, when journalist Benjamin Cook tweeted: "On the set of The Sarah Jane Adventures. Matt Smith is here. So is Lis Sladen. So is Katy Manning. And cool stuff. It is good. That is all."
The two-part story, which is written by former Doctor Who showrunner Russell T Davies, will transmit on CBBC later this year as part of the spin off's fourth series. Sarah Jane will meet the Doctor's new incarnation for the first time, and our Time Lord will also be reunited with his former companion, Jo Grant, who first appeared in 1971.
When production has wrapped, it's thought that Smith will be filming his role as Christopher Isherwood in the new BBC2 drama, Christopher And His Kind, before returning to South Wales in July to begin production on Series 6 of Doctor Who.