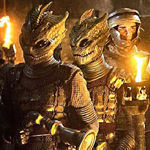 BARB have released the final ratings for The Pandorica Opens which show that an official audience of 7.57million tuned in for the first part of the series finale.
On BBC One, the penultimate episode of Series 5, written by showrunner Steven Moffat, was watched by 6.94million, with an additional 0.635million on the HD channel.
Doctor Who achieved a 37% share of the total television audience, while its Confidential was watched by 0.85million.