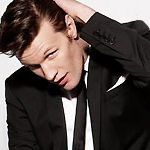 The News of the World has today posted a preview image of a suited and booted Matt Smith, taken from a recent photoshoot to be featured inside the April edition of Esquire, out March 4th.
Our new leading man is also interviewed inside the issue and, naturally, the topic of conversation is his first series of Doctor Who which is set to kick off on BBC One/HD this Easter. 
Of the iconic Time Lord, the Eleventh Doctor actor said: "He's an inter-galactic genius, a superhero-ish, mad, fumbling, bumbling, science geek."
Esquire, billed as 'the magazine for men who mean business', is released monthly and you can find out more about it over at its official website by clicking here.
» Never miss a story! See all the Series 5 news reported on WhovianNet!