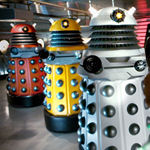 The official Doctor Who website has today unveiled the first in a new series of Series 5 interactive panoramics!
The first is a complete 360 degrees representations of the Dalek ship as seen in Episode 3, with added hotspots linking to trivia, wallpapers, photo galleries and trailers!
Futher 2-dimensional environments will be unveiled over the coming weeks, including the forest featured in tomorrow night's episode, Flesh and Stone, and the TARDIS.
Elsewhere on the official site, and due to popular request, desktop wallpapers have returned, and there's also some new Series 5 jigsaws to piece together. Geronimo!