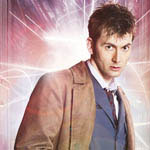 Don't forget that the deadline for our Tenth Doctor Diary Content is tomorrow (Tuesday December 1st) at 10:00AM GMT!
For the past couple of months, to mark the upcoming regeneration of the Tenth Doctor, we've invited our visitors to write a 300 word or less diary entry from the Doctor's perspective of his reaction to saying goodbye to Lady Christina de Souza and hearing Carmen's prophecy at the end Planet of the Dead.
You can check out all the details here. The winning entry will be added to our Christmas Project scrapbook.
UPDATE, 01/12/09, 10:00AM GMT: Thanks to everybody who entered! Stay tuned for the results…