Read our reviews of three new Doctor Who books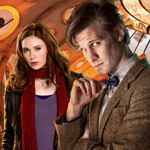 With Christmas just around the corner, you're no doubt keeping a beady eye out on what Doctor Who goodies to include on your list, and, if you're struggling to choose out of the masses of merchandise available, here are 3 books that you should definitely consider! 
The Eleventh Doctor: Matt Smith, The Companion Compendium and The TARDIS Traveller are full of top facts and trivia about the series, and Penguin Books very kindly sent us a copy of all 3 for us to read! 
Of course, it's our duty as a fansite to let you know what we thought, so read on for our reviews! If you've got any of the titles, let us know what you think in the comments! 
---
The Eleventh Doctor: Matt Smith

Out now, RRP £6.99

"I think the magic and wonder of space fits into the notion of fairy tale, especially with a bow tie-wearing alien at the centre…"
First up, The Eleventh Doctor: Matt Smith does exactly what it says on the tin, and if you're a fan of Matt and his work, both past and present, this is the book you've been waiting for. It contains over 60 pages which are each bursting to the brim with fact files, never before seen photos, quizzes and various other bits and bobs relating to Doctor Who's current leading actor. Of course, a guide to Matt wouldn't be complete without a few quotes from the man himself, and inside you can read extracts from an exclusive interview with Matt in which he reminisces his audition process and admits what it was like to take on one of TV's most iconic roles. There's also a round up of the other actors who were rumoured to take over from David Tennant (we still can't believe Billie Piper was a potential Time Lord!), as well as information about Matt's predecessors and their respective regenerations. All in all, it's a great resource which will allow fans to delve even deeper into the world of Matt Smith, and get to know the man who brings our beloved Time Lord to life. It comes with a free poster too!
---
The Companion Compendium

Out now, RRP £6.99
Any of you who have been searching for some last-minute TARDIS survival tips need look no further – the Companion Compendium holds everything you need to know to adjust to life as a time traveller! Starting off with a 'Spotter's Guide' to each of the Doctor's regenerations, the book takes you on a journey through the past as it presents a run down of each of his companions to date, detailing which incarnation/s they accompanied and their reasons for leaving the TARDIS, be it death, marriage, by choice, unwillingly or 'unknown'. There's also all the must know facts about the Doctor's greatest enemies as well as their weaknesses, and some helpful tips – such as writing in code and scientific laws – which will come in handy as you embark on your thrilling voyage across the stars. Once you've memorised the 157 pages of trivia, tips and tricks, you'll be left fully-equipped to join the Doctor on his intergalatic adventures. A must have for any budding companions – see you in the TARDIS!
---
The TARDIS Traveller

Out now, RRP £8.99
Last but by no means least is The TARDIS Traveller, which, appropriately, is shaped just like the Doctor's iconic police box. It even opens up to unveil a 'bigger on the inside' fold-out guide to each of his eleven incarnations, allowing you to discover how long each of them spent in the TARDIS, their favourite accessories (the Fourth Doctor loved his jelly babies while the Fifth Doctor was partial to a piece of, yep, you guessed it – celery!), their top five adventures, and, in a nutshell, what it takes to make a Time Lord tick. A handy guide which would be a welcome addition to your shelf as it's just what you need for quick and easy future reference – and it makes for a perfect stocking filler!
We would just like to say a big thanks to Penguin for sending us the books!