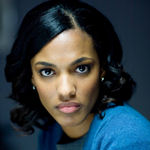 Please join us as we send out huge birthday wishes to Freema Agyeman!
The actress is celebrating her 32nd birthday today, and is best known in the Doctor Who universe as the Doctor's companion, Martha Jones, who has to date appeared in Series 3, Series 4, The End of Time, Part Two and Torchwood. We hope she has a brilliant day!
Leave your own birthday messages in the comments.