Warning! This article and its comments may contain spoilers...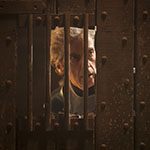 Last night's episode of Doctor Who, Empress of Mars, was watched by 3.58 million viewers, according to the overnight ratings.
The show was the 6th most watched programme of the day, behind Football: World Cup (4.73 million), BBC News' coverage of the election (4.32 million), The Voice: Kids (4.23 million), Casualty (3.9 million) and Mrs Brown's Boys (3.58 million).
Series 10 continues next weekend in The Eaters of Light.
God save the Queen? Click here to Rate & Discuss the return of the Ice Warriors »