Plans for new Torchwood exhibition announced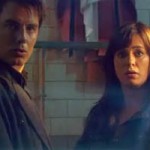 Plans for a brand new Cardiff-based Torchwood Exhibtion have been unveiled.
Experience Design, the same team behind the ever-growing chain of Doctor Who Up Close Exhibitions, are currently reviewing possible venues to showcase the exciting museum.
"A Torchwood Exhibition would be a great addition to the Bay area," said Martin Wilkie of Experience Design. "We have looked at several sites for a Torchwood Exhibition but we are hoping that this one might be available soon."
He added: " The appeal of Torchwood brings many visitors to Cardiff Bay, especially to see the Torchwood Water Tower. The building we are hoping to use for the Torchwood Exhibition is near this famous TV landmark and would offer visitors a unique chance to see many of the key props, costumes and even recent creatures from the up-coming 2009 series, how great would that be!"
If all goes to plan, it's hoped that the exhibition will be open in July, in time for the transmission of the show's third series, Children of Earth.