Claire Bloom discusses role in The End of Time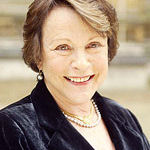 The Telegraph have today published a brand new interview with Claire Bloom, in which the veteran actress discusses her upcoming appearance in the Doctor Who Christmas specials, The End of Time.
"I'm someone who appears and basically gives the Doctor the bad news," she said. "A seer, a prophetess. Also, she is somehow there as a protectress. But that's more in what I tried to do than in the script. The scripts are very, very complicated."
Earlier this month, the official cast lists for the Tenth Doctor's regeneration episodes confirmed that Bloom will be playing a character called The Woman, however there may be more to the role than meets the eye as back in April it was reported that The Woman is, in fact, (highlight to reveal) the Doctor's mother. Not long left until all our questions are answered, folks!