Interview with composer Murray Gold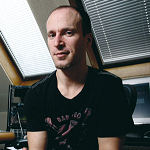 Music from the Movies have published a brand new interview with Murray Gold, the musical director for the first four series of the new Doctor Who.
He'll be staying on the production team to compose the soundtrack for the upcoming fifth series.
"I've started writing some themes and it all looks goods," he said. "Writing music for Doctor Who, there are no limitations on it. It's not like other jobs which immediately create a ceiling to your ambitions. There aren't any confinements in Doctor Who and if there are in one episode, they're pretty soon gotten rid of in another episode."
He added: "I love Steven Moffat's stuff. I've read scripts and they're amazing. Episode one is just complete joy."
Gold goes on to confirm that Series 5 will also mark the introduction of a reworked version of the iconic theme tune, and seemingly confirms the previous speculation that both Mark Gatiss and Gareth Roberts will be returning to write episodes for the new series!
You can find out about Murray Gold's acclaimed Doctor Who soundtracks which are now available to buy by checking out our guide, here.