Video: The Night of the Doctor mini-episode online
Warning! This article and its comments may contain spoilers...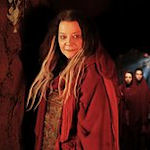 The BBC sent shock waves through the stratosphere today by releasing a new mini-episode for the 50th anniversary!
The special adventure, written by Steven Moffat, will also be available to watch via the BBC Red Button in the run up to the world premiere of The Day of the Doctor. It serves as a prequel to the events of the landmark episode and features a Doctor facing a choice that will change the course of his life on the eve of his most terrible battle. Check it out then discuss the mind-blowing developments below…
The Day of the Doctor will be globally simulcast on 23rd November at 7:50pm GMT.
Share your 50th anniversary hopes and dreams in our dedicated discussion…