The Eleventh Doctor's costume unveiled!
It's been a very long time coming, but here's the first official picture of Matt Smith and Karen Gillan on set of Doctor Who, and in costume as their respected characters, the Eleventh Doctor and Amy Pond!
Six months after his casting in the series was announced, 26-year-old Smith can been seen in all his Time Lord glory wearing a tweed suit, with a brown bow tie – a look that's reminiscent of an Oxford professor. He's also wearing dark shoes and trousers. Meanwhile, Karen can be seen in quite a laid back and contemporary look for her portrayal of the Doctor's new companion. You can see the intriguing location shot below: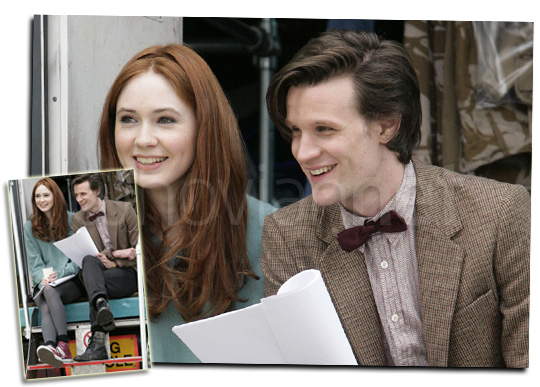 Loading ...
Over the coming months, the duo will become common knowledge for Who fans as filming for the fifth series continues in Cardiff – and we're promised more laughs, thrills and scares than ever before for Series 5, which will hit our screens next year.
What do you think of the Doctor and Amy's attires? Let us know by voting on the poll above and leaving your thoughts in a post on this news story!
You can read more about Series 5 of Doctor Who in the previous post.