Video preview of new game, The Mazes of Time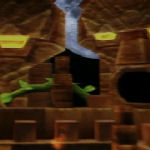 BBC America have today released a video preview of the forthcoming game, The Mazes of Time, which is set to be released for the iPod, iPhone and iPad just in time for Christmas.
The game has been developed by Tag Games and "allows users to play both the Doctor and Amy Pond, utilizing their unique skills and abilities to solve challenges". It has been written by Oli Smith, writer of the new Nintendo Wii and DS games, Return to Earth and Evacuation Earth.