Torchwood: Miracle Day – theories and speculation!
Warning! This article and its comments may contain spoilers...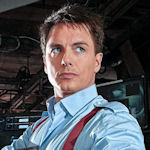 With filming for the highly anticipated fourth series of Torchwood due to kick off in LA on Tuesday, over the coming months we'll slowly but surely learn lots more about the 10-part story ahead of its international debut in July…
If, like us, you're already counting down the days left until Jack and Gwen's return, we're here to help you pass the time with our new dedicated Miracle Day discussion - the perfect place for all of your pre-series thoughts, speculation and general Torchwoody ramblings!
You can use the comments below to converse about all things Series 4. It'll be open 24 hours a day, 7 days a week, so you never have to worry if you wake up at 3am bursting with excitement, as we'll be here for you to get your weird and wacky theories off your chest! Are you looking forward to the new series? What do you make of its synopsis? You can also talk about all the latest filming developments as and when they happen!
Please don't read the comments if you don't want to find out anything about the series, as we won't be monitoring the discussion for spoilers.