Elisabeth Sladen passes away, aged 63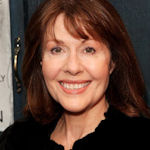 It is with great sadness that we bring you the news that Elisabeth Sladen has passed away at the age of 63.
Elisabeth made her first appearance as Sarah Jane Smith in Doctor Who in 1973, and has been a prominent figure in the series since. Her starring role in her own spin off, The Sarah Jane Adventures, means that she will be remembered by a whole new generation of fans as well as those who followed her story throughout the Classic Series. She passed away this morning following a battle with cancer.
Within seconds of its announcement, the terrible news made headlines across the world. Here in the UK, it has been covered by the Guardian, the Mirror, The Sun, Digital Spy, Newsround and BBC News. Russell T Davies paid tribute to her on the news, noting: "All of us who work on Doctor Who and Sarah Jane are reeling at the moment."
"I'm deeply saddened and shocked by the news of Lis' untimely death," said Damian Kavanagh, Controller of CBBC, in a statement. "Lis brought joy, excitement and a sense of wonder to her many fans in her role as Sarah Jane Smith. She was adored by our young audience and I know all of them will miss her as much as I will."
Tributes have also been paid on Twitter. Mark Gatiss has labelled the late actress as "the best", while Phil Ford has described her as a "fabulous person" who will be "badly missed by so, so many". Stephen Fry, meanwhile, added: "Sarah Jane was part of my childhood", and Murray Gold has praised her for "never seeming to age, tire or cloud".
The creator of The Sarah Jane Adventures, Russell T Davies, added: "I absolutely loved Lis. She was funny and cheeky and clever and just simply wonderful. The universe was lucky to have Sarah Jane Smith; the world was lucky to have Lis."
An array of series cast members have also responded publicly to the sad news. Nicola Bryant has told her followers that "it's too much to take in", while John Barrowman has said he is "proud to have worked with such an icon of the sci-fi world", adding: "Your Dr Who family are very sad and will miss you and your beautiful smile". Finn Jones has also described working with Elisabeth as "a pleasure and honor", and Nicholas Pegg reaffirmed: "Desperately sad news about the beautiful, talented, incomparable Lis".
"Sarah Jane was everybody's hero when I was younger, and as brave and funny and brilliant as people only ever are in stories," Steven Moffat has said. "Many years later, when I met the real Sarah Jane – Lis Sladen herself – she was exactly as any child ever have wanted her to be. Kind and gentle and clever; and a ferociously talented actress, of course, but in that perfectly English unassuming way."
Elsewhere, Clayton Hickman has commented: "Will miss Lis Sladen more than I can say", and Tom Spilsbury has echoed: "I feel utterly drained. Farewell, Lis – I'm so sorry I didn't have the chance to say goodbye. We'll do you proud in DWM, I promise".
Matt Smith said: "What struck me about Lis was her grace. She welcomed me and delighted me with her tales and adventures on Doctor Who. Her grace and kindness will stay with me because she had such qualities in abundance and shared them freely. I will miss her, as will the world of Doctor Who and all the Doctors that had the good pleasure to work with Lis Sladen and travel the universe with Sarah Jane."
Roger Carey, who represented Lis for many years, said: "She was not just a client, but a dear friend. She was so positive about life and her natural energy was intoxicating."
"We are all so shocked and so very sad at the news of the death of Lis Sladen," said Nick Briggs. "Only yesterday I was filming a DVD extra in which I was talking with such heartfelt passion about how she was so 'luminous' on screen and how brilliant she was as Sarah Jane Smith. And that is the truth. For so many of us, she was the ultimate Doctor Who companion. On paper, in the original Doctor Who TV series, there was, arguably, nothing startling or particularly compelling about the character; it was Lis who made her totally fascinating to watch. Lis created Sarah Jane."
All of our thoughts and prayers go out to her family and friends at this difficult time.