Official: Patrick Ness confirms Class departure
Warning! This article and its comments may contain spoilers...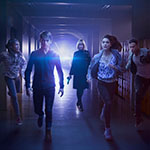 Patrick Ness has confirmed that he won't be returning to Class if/when a second series gets commissioned.
The creator of the Doctor Who spin off took to his Twitter to formally announce his departure with "unbelievable regret", adding that it's been "the MOST amazing experience" to "make a show he's so proud of".
Its future has been in doubt since its underwhelming online debut last year, during which it failed to make the Top 50 on BBC iPlayer throughout its 7 week run.
Its BBC Three premiere was followed by a televisual outing on BBC One where it was given the dreaded graveyard shift and failed to attract more than 300,000 viewers. Patrick noted that he "remains baffled" by the slapdash scheduling, adding: "But I'm not even the littlest bit bitter and I am still so grateful to have had the chance. That's just TV and how it goes."
So, it looks like Class really has been dismissed. Do you think the right decision has been made, or were you holding out for a return to Coal Hill? Let us know…