"Goodbye, Peter" video Christmas project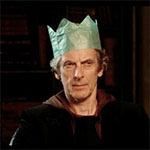 It only feels like yesterday that Peter Capaldi was being announced as the Twelfth Doctor, but time really does fly when you're having fun – and, admittedly, when you have a TARDIS – because it's already 4 years later and the end of his epic era is nigh.
The Time Lord's incumbent incarnation will regenerate before our very eyes in Twice Upon a Time on Christmas Day, but not before he has joined forces with the original (you might say) for the multi-Doctor adventure to end them all. While this year's festive special is as exciting as they come, it will also be shrouded in bittersweetness and sorrow as it will be Peter's last ever adventure in his iconic starring role, as well as Steven Moffat's final episode as showrunner. Tissues at the ready…
It isn't over 'til it's over, of course, and we're gearing up to give Number 12 the send off he well and truly deserves with the launch of our Goodbye, Peter project which will involve compiling your personal farewell videos messages into a special montage which we'll send to Peter at the end of the year. If you hadn't guessed already, we need YOUR help to do it!
Our ultimate aim is to put together a heartwarming video that's as far-reaching as possible, with contributions from fans of all ages from all across the world. You can send us your 10 second farewell message as an attachment to admin@whoviannet.co.uk, or upload it to your YouTube channel and email/tweet us the link @WhovianNet. Be sure to include your name, age and location, as these will be featured alongside your contribution in the final video. We'd also appreciate it if you'd help us to spread the word on social media with the #GoodbyePeter hashtag, and get all of your Whovian friends and family involved, too!
The deadline for submissions is currently Friday 1st December 2017, so there is plenty of time. We can't wait to see your messages as we unite to say #GoodbyePeter!