Sophie Aldred says it'd be "very nice to go back"
Warning! This article and its comments may contain spoilers...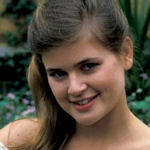 Sophie Aldred's said that it would be "very nice" if she were asked to return to Doctor Who for its 50th anniversary next year, confirming she would do it "like a shot".
The actress, who played Ace in the series back in the 1980s, told the Independent that she'd love the chance to reprise her role as part of the big celebrations. "Doctor Who is one of those things that just stays with you, and I'm very happy with that," she said. "I would love to do it again on TV, but she'd be played by this strange woman with two children!"
When asked to name her favourite revived series companion, she revealed: "Billie Piper played Rose brilliantly. I think Karen Gillan's a really strong companion for the Doctor."
Steven Moffat has said the plans for the landmark year are "extensive" and "amazing".