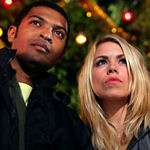 Well, we've almost made it, folks! It's Christmas Eve, which means that tomorrow the first part of The End of Time will have its official debut in the United Kingdom, and the Tenth Doctor's last adventure will begin!
And, as frequent visitors to WhovianNet will know, we've been planning our farewell to him for a while now. Since September, to be precise.
Of course, we're talking about The Christmas Project, which we launched earlier this year with the intention of creating a scrapbook full of your messages to send off to David Tennant to thank him for all his hard work, commitment and dedication to Doctor Who over the past four years. And now the big moment has arrived…
Today, for our penultimate Advent Calendar update, we bring you a video slideshow of some of the pictures (not all of the snaps could be included for privacy reasons – sorry!) we've taken of the finished product, which you can view below!
We'd just like to say a big thank you to everybody who contributed, and also everybody who has supported the project, especially Kasterborous and The Doctor Who News Page. We couldn't have done it without you!