Exclusive Interview: John Leeson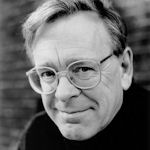 As part of our Fourth Doctor celebrations this month we're delighted to bring you an interview with John Leeson!
While John's face might be unfamiliar to you his voice would be instantly recognisable as that of K-9, the Doctor's loved companion. K-9 made his first appearance in The Invisible Enemy in 1977 and instantly became a hit with fans as K-9 become an invaluable member of the TARDIS team.
Over 3 decades since his debut, K-9 is as popular as ever.
Here, John chats exclusively to us about K-9's lasting appeal, plus his memories of being on set, proving why K-9 has, over the years, become so much more than a metal dog…
Q. Hi John! Firstly, how and when did your involvement with Doctor Who come about?
A. My involvement with Doctor Who came about entirely accidentally. Back in 1977, I met an old friend, a director I had worked with on tour from Nottingham Playhouse – and elsewhere – at my local pub in Ealing. He had been directing 'Z-Cars' for the BBC locally, and ubsequently suggested my name to Who producer Graham Williams. The rest, as they say, is history!

Q. As well as Doctor Who, you've had various stage roles and appeared in TV shows including 'Allo 'Allo!, Dad's Army and Rainbow. When did you first realise you wanted to pursue a career in acting?
A. My history as an actor must have started in childhood – I WAS an actor! Needless to say I needed training, and I spent a couple of years at RADA alongside some very talented fellow Students. Does the name Anthony Hopkins ring a bell? Subsequently my 'on the ground' training was through the medium of character parts in repertory theatre in various places throughout the UK, plus a number of appearances in 'fringe' London theatre and in the West End.  I cannot overemphasise the importance of experience in theatre work as an essential ground-base for any actor, no matter if all they eventually want to do is TV and film. Voice work sort of happened accidentally.

Q. Your first Doctor Who appearance as K-9 was in 1977. Initially intended as a one-off part, were you pleased to return when it was decided to make K-9 a regular fixture in the TARDIS?
A. The continuance of K-9 following The Invisible Enemy may possibly have been as much a matter of good housekeeping on the part of the BBC as anything else. They had paid a considerable sum to bring the character physically into being, and it was hardly surprising that they wanted to maximise their investment.  Needless to say, perhaps, it was gratifying to know that the K-9 character had 'clicked' with its audience, so I was happy to continue to play 'the voice' while there were scripts that did justice to his character and his usefulness within each storyline. Keeping K-9 fully engaged has always been a problem for writers, as relegating him to the status of yet another 'sonic screwdriver' to get the Doctor out of trouble had always been a bit of a cop-out.

Q. Could you explain the initial process of devising K-9's voice/personality? Did you have much say in his design?
A. K-9 was already in the design stage when I came on board, but the 'module' didn't physically appear until the very first studio day, so I had no prior input. Vocally, the idea was to have a voice that was tinny and hard-edged, rather like what you might hear from a very cheap speaker in an equally cheap transistor radio. Given that K-9 was a computer rather than a dog, I simply pitched my own voice to a higher register and 'clipped' the dialogue to take as much warmth out of it as possible. Result? I don't need any 'artificial aids' to reproduce the K-9 sound.

Q. As for filming, are you always present on set to read K-9's lines or are they recorded during post production, or a mixture of the two?
A. Nowadays much of the K-9 voice work is recorded in post-production. A necessary evil, perhaps, as tighter budgets tend to dictate. A shame, as the 'live' dynamic that applied to most of the early stories in which K-9 was involved was beneficial to the sense of interaction between the characters. Part of the reason, I dare suggest, that the character stayed so long in the 'classic' era of Doctor Who.

Q. Were you surprised by how successful K-9 became with audiences and what would you say are the factors that contribute to his ongoing popularity?
A. Surprised? I'll say so! Particularly as the character was such a  pedantic 'know-it-all', and kept breaking down!    Reasons for K-9's popularity?  I'm never sure, but I guess it must be an amalgam of the British love for dogs (not that he's a dog), and his loyalty to the Doctor or the companions – added to which, his perky if slightly irritating personality. He's a bit of 'grit' in the Doctor's 'oyster', perhaps!

Q. K-9's popularity has led him to star in various spin off and tie-in shows over the years. What has it been like to explore the character across these different platforms?
A. The spin-offs and tie-ins have been such a surprise too, another endorsement of his popularity. He still maintains the same characteristics throughout, although in the series 'K9′ he appears in a much more updated form. Audio spin-offs from BIG Finish and BBC AudioGO have been a great success too. Purely in sound there's no physical limit to his capabilities, either.  Such a bonus!

Q. What have been your experiences of meeting Doctor Who fans?
A. Were it not for the fans, I wonder if we'd even be celebrating 50 years of Doctor Who this year. I speak to you having just returned from a three-city convention tour of Australia where the fan base is tremendously enthusiastic. K-9 always appealed to the younger elements of the audience, many of them now having grown up with children of their own, so it has been an added privilege to me to see a generational continuance of support both for the series as a whole and for the robotic character I played.

Q. Have you got any funny stories from filming you can share, for example, has K-9 ever found himself in any spots of bother?
A. Here's a cue, if anything, for a 'plug' for my revised autobiography "Tweaking the Tail" which comes out this summer from Fantom Publishing (alongside my collected recipe book "Dog's Dinners"… corny title, sorry!). There are K-9 stories aplenty, and much else about my uniquely varied life besides. I may even read it myself!

Q. As you mentioned this year marks the 50th anniversary of the series, could you tell us if K-9 will be involved in the celebrations at all?
A. When it comes to K-9's involvement with anything, whether it be further involvement in storylines, or public appearances, or even the 50th anniversary celebrations, I am always the last to be told! I do know, however, that the BBC are working on how best to celebrate this very significant milestone in the history of the series, and maybe one day they may be so kind as to let me in on their secret! Then we'll all know.
We would like to say a huge thanks to John for taking time out to answer our questions!