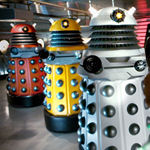 The official Doctor Who website have revealed their plans to host a week-long party dedicated to the Daleks!
As such, they have invited fans to send in their own thoughts about the Doctor's deadliest foes, and you can submit your own memories by clicking here. A handful of the submissions will be included in the festivities next week!
Elsewhere in their celebrations, the site will be reliving the Daleks' best moments and delving into their epic history.