Billie: "It's time to move on"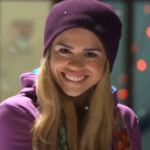 In a new interview with The Independent, actress Billie Piper has revealed that she's doubtful she'll ever be back in Doctor Who as Rose Tyler.
"It's a healthy time to leave. Our period on Doctor Who is over now really, isn't it?" she told the website. "It's shifted. The writers are different, the production team are different, and the Doctor is different."
She added: "I can't keep reappearing. It would just become sad. If I were still reappearing when I was 50, people would say, 'Oh no, not you again!'"
Catherine Tate has also previously confirmed that there are no plans for Donna Noble to make a comeback in the future.
» Keep up-to-date with Billie!