Warning! This article and its comments may contain spoilers...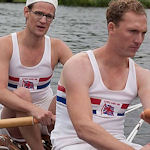 Matt Smith's Olympic themed drama Bert & Dickie has been confirmed to air next Wednesday 25th July at 8:30pm on BBC One, so you'd best prepare to get rowing!
The actor plays Bert Bushnell in the movie, which tells the true life story of how the British rower defied the odds to win gold in the double sculls at the 1948 Olympics.
Sam Hoare stars as his rowing partner Richard Burnell. Alexandra Moen (Lucy Saxon) guests as Rosalind Burnell.
Geoffrey Palmer, Clive Merrison and Ron Cook also appear. The drama was written by William Ivory and directed by David Blair. It will premiere on BBC America in the US on the same day (8/7c) under the title Going for Gold – The '48 Games. View trailer:
Will you be tuning in? Are you looking foward to seeing Matt back on our screens again?