Warning! This article and its comments may contain spoilers...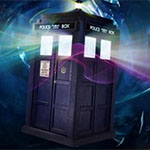 After weeks and months of fevered speculation, it's hard to believe that we're now just hours away from finding out the identity of the Thirteenth Doctor.
Now that Peter Capaldi has filmed his final scenes for this year's Christmas Special, the new Chris Chibnall era is about to mark its first milestone with the announcement of its honourable hero. And as first milestones go, this is a pretty big one. It's the most closely guarded secret in TV, but who is about to take over the mantle of TV's favourite Time Lord? Here's our list of the most popular candidates…
Kris Marshall
Well, we might as well start with the most obvious. You'd have to have been living under a rock to not know that Kris Marshall has been front-running the race since betting was suspended on him back in March. All he did was quit his leading role in Death in Paradise – which he starred in for three series – at the same time that Peter Capaldi announced his departure (coincidence?), and all of a sudden it was common knowledge – albeit the type that isn't based on any actual facts – that the My Family star was taking over the TARDIS. He denied it, of course, but actors lying about their involvement in Doctor Who is basically rule one.
Tom Weston-Jones
Speculation about who will take on the guise of the Thirteenth Doctor has been rife since Peter revealed that he was stepping down, but the rumours have actually been flying a lot longer than that.
Back in January 2016, Tom Weston-Jones emerged as a very early favourite to take over the show's reigns from its incumbent incarnation, who was at that point yet to even confirm his exit. Why waste time, eh?
Not much has been heard from the Dickensian actor since, but we're still keeping an eye on him…
Idris Elba
Because let's face it, which role isn't Idris Elba in the running for? His name is guaranteed to pop up whenever a new Doctor is waiting in the wings (or whenever there's a vacancy in any other show/film ever…), so it's no surprise to see him back on the board this time round. He has secured the support of Series 9 guest star Maisie Williams, who reckons the Luther star would bring a "really cool" vibe to the temperament of TV's favourite Time Lord. He might just have bigger fish to fry, though, if these ever persistent Bond rumours amount to anything. Franchises, eh? You can't front 'em all.
Tilda Swinton
While the call for a female Doctor is by no means a new notion, the campaign certainly seems to have intensified for Number 13. It's an unlucky number for some but it definitely wouldn't be for Tilda Swinton (erm, that's the Academy Award winning Tilda Swinton to you), who has been feverishly flying the flag to become the first ever female Doctor – whether she wants to be or not. She's got Ingrid Oliver's blessing, and Billie Piper has also gone on record to state that casting anybody but a female would "be a snub". Wow, Billie. Tell us what you really think, why don't you? Jokes. She's Rose Tyler and she can say whatever she bloody wants, you hear me?!
Damien Molony
No stranger to the reputable realms of cult TV fantasy, Damien Molony is perhaps best known for his portrayal of Hal Yorke in the BBC Three series Being Human. The show gave him plenty of things to get his teeth into (ICYMI, he was a vampire), so much so that creator Toby Whithouse thinks he has more than paid his dramatic dues to take on the mighty Time Lord baton, describing him as a "terrific" actor. Toby, who is a frequent Doctor Who writer, has also named Chiwetel Ejiofor as his second choice. But if he returns to pen an adventure for Series 11, will he be writing for his dream Doctor? Time will tell. It usually does.
Phoebe Waller-Bridge
Having just finished filming the upcoming untitled Han Solo film, due to hit cinemas next May, it looks like Phoebe Waller-Bridge has set her sights on conquering another formidable sci-fi franchise, now that she's been bitten by the bug. That is, if the recent claim that she's been cast as the Thirteenth Doctor isn't just another case of clickbait…
The actress received a flurry of bets to her name back in April and her proposed casting was even picked up on a recent episode of Newsnight which suggested that she had "accidentally outed herself" during an online interview. Oops.
Sacha Dhawan
If you recognise Sacha Dhawan, it's probably because he contributed to the 50th anniversary festivities back in 2013 when he portrayed Doctor Who's first ever director, Waris Hussein, in the docudrama An Adventure in Space and Time. Having already left his mark on the Whoniverse, he might just be about to take over the whole show, but he's just as "honoured" to have even be considered. "It's quite a lot of pressure," he said earlier this year. "But I think I'd bring something exciting to it." It's better to have been rumoured to be the next Doctor, than to never have been rumoured to be the next Doctor at all. They say that, right?
Jodie Whittaker
Last but by no means least is a relatively late entry to the race, but a serious contender nonetheless.
Like, a seriously serious contender. In fact, Jodie Whittaker is currently the bookies' joint favourite to take over the role, which puts her neck in neck with Kris Marshall as far as the whimsical world of betting is concerned.
It's worth pointing out that she's worked with Chris Chibnall before, too, having starred as the formidable Beth Latimer in his acclaimed crime drama, Broadchurch. But is she about to be entrusted with the keys to the TARDIS?
Should the next Doctor be a female? Join the debate in our dedicated discussion…