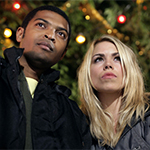 As we await tomorrow night's premiere of this year's Doctor Who Christmas Special, The Husbands of River Song, there's just enough time to reveal which of the Doctor's past festive escapades has been voted as your favourite (so far)!
Our beloved hero has embarked on 10 seasonal adventures to date and he even managed to encounter Santa Claus in last year's yuletide jaunt, Last Christmas, which culminated in a majestic sleigh ride over London and a journey to the North Pole itself. Sort of. It doesn't get more Christmassy than that, but not even Father Christmas could secure your support.
In fact, on the night before Christmas Day we're turning back the clock to 2005 when the timey-wimey traditions began in The Christmas Invasion. Doctor Who's first Christmas Special, and David Tennant's first full-length episode in role as the Tenth Doctor, has been named as the greatest so far with 19.8% of the vote. The whole of mankind fell under the shadow of the alien Sycorax and, as it turns out, you were loving every minute of it. Well, there were robot Santas, killer trees and satsumas. What more could you possibly want?
In at a very close second with 18.5% was 2010's A Christmas Carol, which won our poll last year and will stand the test of time as an absolute classic. Let's face it, though, they're all classics. And it's almost time to do it all over again! Thanks to everyone who voted and we hope you all have a very Merry Christmas, sweeties! Check out the full results below…
Your Favourite Doctor Who Christmas Special – The Results

2. A Christmas Carol (2010) (18.5%)
3. The Time of the Doctor (2013) (14.8%)
4. Last Christmas (2014) (9.9%)
5. The Snowmen (2012) (9.9%)
6. The Runaway Bride (2006) (9.9%)
7. Voyage of the Damned (2007) (8.6%)
8. The End of Time, Part One (2009) (4.9%)
9. The Next Doctor (2008) (2.5%)
10. The Doctor, the Widow and the Wardrobe (2011) (1.2%)