Warning! This article and its comments may contain spoilers...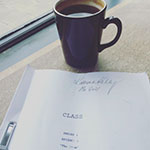 Class star Katherine Kelly treated her fans to a special Friday treat this morning by revealing (perhaps accidentally) the first episode title!
Thanks to this Instagram post, we now know that Episode 1 of the Doctor Who spin off, which has been created and written by award-winning Young Adult author Patrick Ness, is intriguingly titled The Prom. Not only that, but Katherine's character – who has previously been described as "a teacher and powerful new presence at Coal Hill School" – goes by the name of Miss Quill. Exciting!
Filming on the 8-part drama is now well underway, to premiere on BBC Three this autumn.
Get to Class! Read all the latest developments about Doctor Who's new spin off…