Matt Smith 'born to play an alien'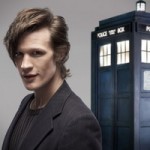 We've still got the Tenth Doctor for a few more days yet (make the most of it!), but already Radio Times are looking into the future with a feature in their latest issue detailing the people to watch in 2010, and 3rd on the list is Matt Smith, who will soon be welcomed into the Doctor Who universe as the Eleventh Doctor.
And Steven Moffat promises that the actor has "restored the more professorial aspect of the character".
"At times he's very quiet," the Series 5 head writer told the magazine. "The strong, quiet man. Some of his most powerful moments are when he's very, very quiet… very, very gentle, in a way that a very powerful person can be. There's a scene I watched just recently in which he was chillingly good: a big confrontation-with-the-alien scene, and instead of playing it - as he could have - in a much more bombastic way, he was very quiet, very matter-of-fact, very simple."
He finished: "He's a very distinctive actor, and he has the most extraordinary face. And the camera loves him, so you'll be seeing a lot of that face, suffering, in close-up, I tell you!"
» Never miss a story! See all the Series 5 news reported on WhovianNet!